Approach
---
A model that prioritizes research, prevention, sustainability and advocacy
To serve as the guiding principles of systemwide basic needs funding efforts, the UC Basic Needs Model was created, outlining a holistic and preventative approach to addressing basic needs insecurity. This preventative approach aims to decrease the need for emergency resources, enabling campuses to move beyond crisis support to a more holistic basic needs model — with an emphasis on basic needs skills development, financial literacy workshops, healthy cooking classes and more.
The UC Basic Needs Model
The UC Basic Needs Model has allowed campuses to prioritize the implementation of funding from the UC Office of the President and California State Legislature in ways that address local campus issues and needs while still adhering to a unified approach across the UC system. The UC Basic Needs Model includes four key areas: research, prevention, sustainability and advocacy.
Research: Basic needs leadership shall prioritize research, data collection and program evaluation to study students' experiences with basic needs and the effectiveness of campus interventions.
Prevention: Basic needs leadership shall devote funds to preventative measures, such as increasing the visibility of basic needs resources and financial training in pre-college outreach efforts to all students, especially first-year and prospective students. By providing these students an understanding of how to manage finances, food and housing, they can be better equipped to evade basic needs insecurity in the first place.
Sustainability: Basic needs efforts shall be designed in a manner that sustains their operation and creates institutional memory, so that basic needs efforts continue beyond the first few years of their inception.
Advocacy: Basic needs leadership shall advocate for this work as a model for other institutions and actively promote further systemic changes at the state and federal level to bolster programs aimed at reducing basic needs insecurity.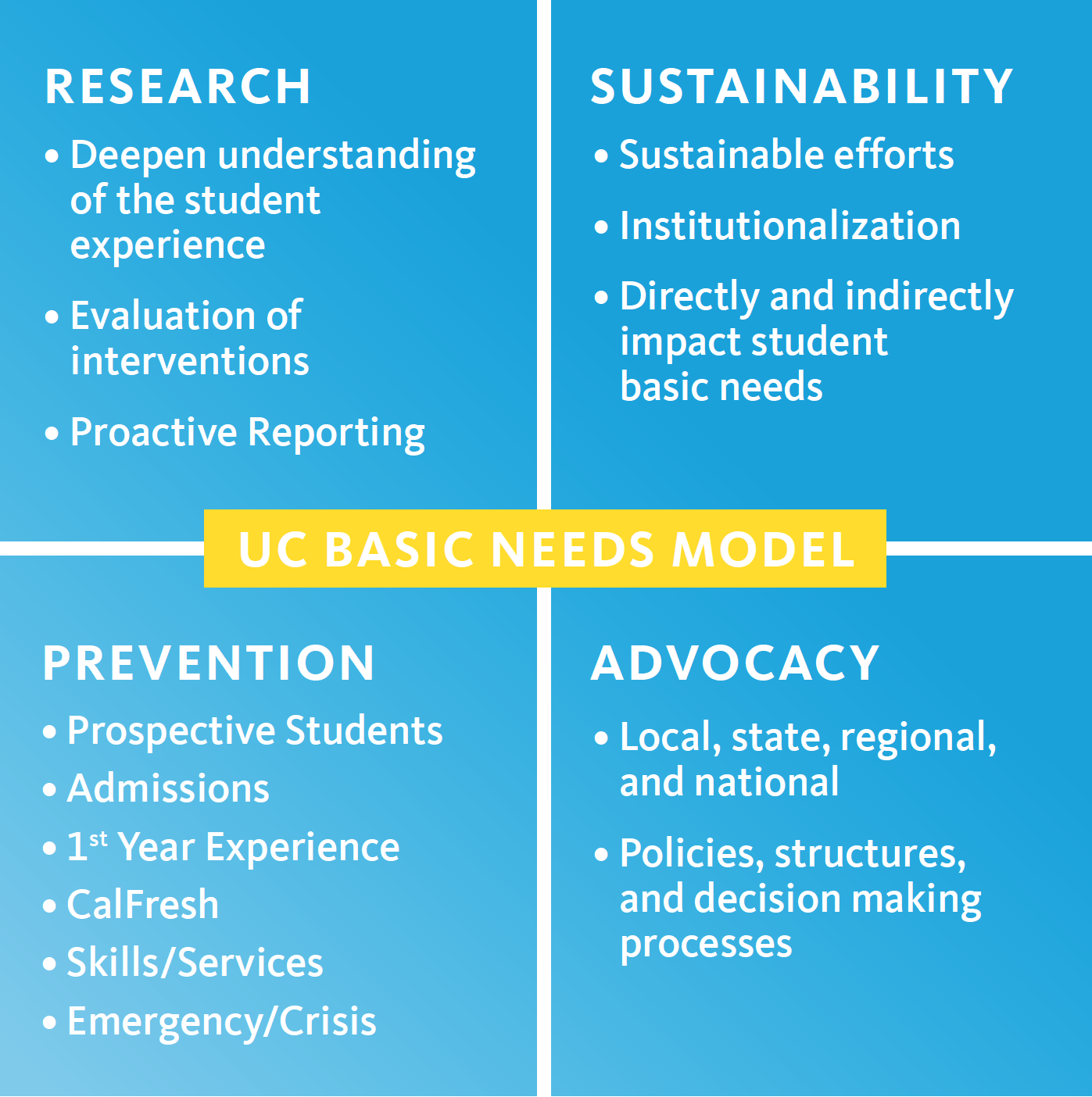 Reports
To explore institutional studies, research and findings at UC, view our library of basic needs-related reports.
---
Student Basic Needs Dashboard
Review survey data from 2016, 2018 and 2020 to see how basic needs insecurity impacts student learning, engagement, satisfaction and outcomes.