Student Stories
---
An inside perspective: UC students share their basic needs stories
As part of the Regents' Special Committee on Basic Needs report, UC students from across our 10 campuses shared their personal experiences as students dealing with the multidimensional challenges of basic needs insecurity.
A first-year transfer student balancing full-time work and full-time school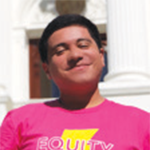 "As a first-year transfer student at UC Riverside, expenses were already tight for me and I couldn't count on anyone else for financial support because of my background as a low-income student. I worked 35–40 hours a week and had to choose missing a day of work to study and attend a class, but that often resulted in me being low on money for rent, which meant I could not eat every day to make up for the loss.
"If I decided to miss class for work, then I would often end up doing badly in a class — and this was a pattern that continued for a while and I found myself under academic probation and at risk for losing my university's help in paying for my tuition. I was confused, I felt like a failure, and I didn't know what to do because everyone else was doing well except me. Because of this, I took the decision to cut my hours to focus on school and became homeless, though I didn't want to admit it. I used to sleep on different friends' couches during the week, and when I couldn't sleep on someone's couch, I would sleep inside my friend Kat's car. All while still having to ration my food during the week and joining clubs so I could eat during the meetings, since food was always provided.
"My inability to access basic needs affected my academic performances and made me feel embarrassed and anxious every day because I was homeless and was afraid that someone might find out."
— ANGEL HUERTA, UC RIVERSIDE
A new mom struggling to keep family and academics afloat amidst post-COVID chaos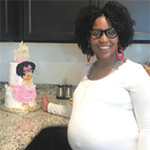 "Along with being a full-time student, I am a wife and a mother of two. Aggie Compass helped me at a very critical time in my life. I had just given birth to a baby during a pandemic, my preschooler was out of school due to COVID-19, and my husband was on unpaid leave due to his health. The doctor ordered him to take time off because it was dangerous to continue to work in the public sector with chronic asthma.
"Amongst all of those life changes, I am enrolled in school, part-time, a week after delivering a baby. Aggie Compass helped relieve the pressure of one of our biggest bills: RENT. We lost our income during this quarter, but Aggie Compass kept shelter over my family's head. I am forever grateful, and I am shocked that I never heard of this resource until now. This is a life-saving program and very beneficial to the well-being of UC Davis students."
— SADE MCALISTER, UC DAVIS
An undergraduate coping with the stress that comes from food and housing insecurity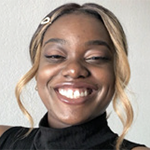 "When I transferred to Riverside this fall, I had a hard time adjusting both financially and academically. I faced food insecurity and rent insecurity. It was hard to concentrate on classes when I was worried about paying rent and where I could get meals.
"The basic needs resources on campus have been essential to minimizing my stress regarding essential needs like food and housing. Especially the Economic Crisis Response Team who've been crucial to providing much-needed resources during the quarantine. Receiving CalFresh has also alleviated my food insecurity and helped me to reconsider the role food plays in my life and others'."
— JANE QUARLES, UC RIVERSIDE
A first-generation student worrying about belonging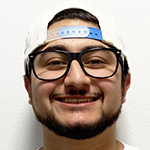 "My experience as a commuter student at UCLA was a huge factor in my basic needs insecurity. Being a low-income, first-generation student from South Central Los Angeles, commuting took the brunt of it all. As a commuter, I prioritized buying gas, parking permits and books to be prepared to go to class, which meant that I would limit the amount of money I would spend on food while I was on campus … I only bought food once a week while I was on campus and would not eat until I returned home … I would often lose focus and fall asleep more often in class, and when I was not sleeping, I would find myself thinking more about being hungry than the actual coursework itself.
"With all this, I began to experience imposter syndrome. I felt as if I did not belong at UCLA because I was experiencing this issue of food insecurity and not issues that a traditional student would encounter. My first year was tough being a full-time commuting student; however, it became more manageable when I found the UCLA Community Programs Office (CPO) my second year ... The program took away the stress of needing to go to extreme measures to secure the ingredients and provided a healthy meal for us. If it were not for the UCLA CPO Basic Needs Initiatives and the support from the UCLA CPO, I had no idea how to manage myself and my basic needs."
— FREDDY RAMOS, UCLA
An undergraduate contemplates sacrificing school to keep family safe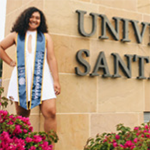 "My need for assistance is COVID-/pandemic-related. Unfortunately, my housemates and I came directly into contact with someone who tested positive at the end of our lease. Unable to safely self-isolate at home due to underlying conditions of certain loved ones, I was unsure of where to go.
"I was recommended to the financial aid crisis team, and surely they went above and beyond to aid us. I was willing to seek any option to ensure the safety of my loved ones, even going into major debt and sacrificing my summer classes I need to finish to have my degree by fall. The financial aid crisis team provided us with housing while we waited for test results and to be cleared to join our families. They provided housing and support when we all really needed it. The weight they took off of our shoulders allowed us to finish finals, prepare for summer, and know that no matter what the situation turned into later ... we would be in good hands. There are no words to fully express my gratitude for their help."
— KARLA RAMOS, UC SANTA BARBARA
An undergraduate searching for housing the semester before graduation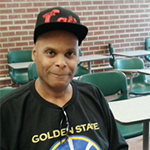 "During the first month into the coronavirus, I was stuck, really stuck in a situation that was almost impossible to bear. I have been transient (homeless) for the last seven and a half years and was in the last semester of school before graduating. … Being transient has its challenges, one being I have to shower and get cleaned up at the local gym. The only problem is the gyms had to close due to the pandemic; therefore, I had nowhere that met this very basic need.
"My professor suggested that I contact the Basic Needs Program to see if they could help me find housing. Frankly, I did not contact them before because I thought it was a lot to ask for housing. But at [my professor's] recommendation, I went for it. So, I asked for a motel room one night per week in order to have some sort of way to maintain basic hygiene. I called and spoke with [a Basic Needs case manager] … and explained my situation to her. [She] listened to and understood my very unique situation. Much to my surprise and delight, she was able to secure a hotel room not for one night per week, but daily for four weeks. Then at the end of the four weeks, [the case manager] was also able to secure funds … that allowed me to maintain the hotel room a bit longer plus additional funds to buy food. The Basic Needs Program really came through for me at a time when they were needed the most."
— RONALD RIVERS, UC BERKELEY
A student unable to return home in the wake of COVID-19 border closings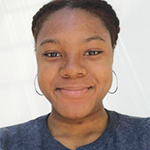 "During COVID-19, my country's border closed and I was unable to return home. Along with this, I had no housing for the summer session. This is when I contacted the Basic Needs Center. They responded quickly and were so helpful in ensuring that I had a place to stay no matter what and for however long I needed. Their main goal was making sure that I had a roof over my head and I am so grateful for this.
"They brought ease to my mind in a difficult situation and were a vital organization for me during COVID-19."
— JENEA SPINKS, UC BERKELEY
Student Basic Needs Dashboard
Understanding the total impact of basic needs insecurity
Review survey data from 2016, 2018 and 2020 to see how basic needs insecurity impacts student learning, engagement, satisfaction and outcomes.
---
Report
Redefining Student Basic Needs for Higher Education
Read the 2020 study to understand and map student basic needs across UC.
---
Report
The University of California's Next Phase of Improving Basic Needs
The Regents' Special Committee on Basic Needs report outlines recommendations and systemwide challenge goals to achieve by 2025.